Original Queen Anne vintage , art deco, or waterfall dresser, (whatever you want to name it), has seen better days. The top is stained and marked up badly. The yellow trim – yuck! But, it has so much character, I'm nervous about painting it. I want to paint up to its potential. Thanks to Debbie at Westside Furniture for saving it to let me paint it!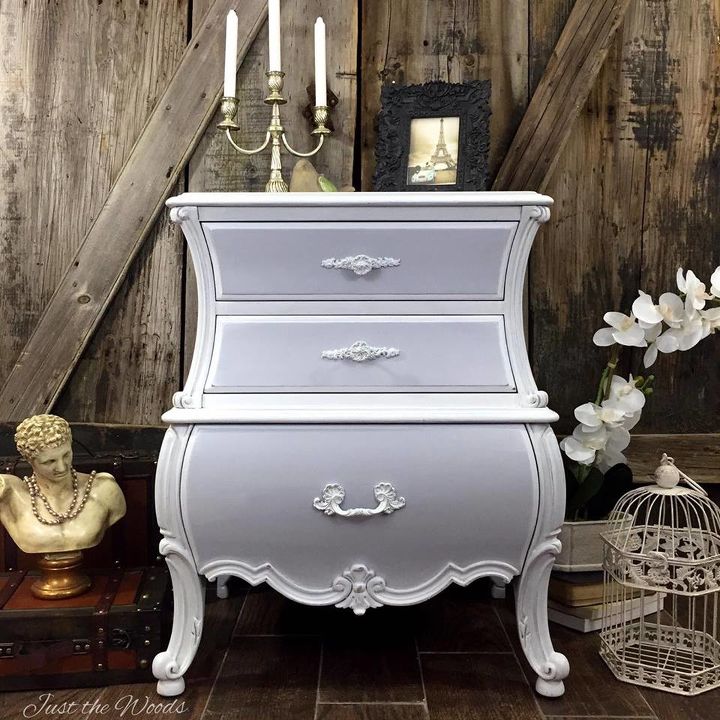 Makeover Results
These photo's don't do the piece justice. Proper lighting and back drop is crucial for getting the best furniture photo shoot – for now it's my front porch.
Plain white trim and gray body is terrific on the inspiration piece but this big ol' 5 drawer dresser looked bland without some embellishing. Lightly glazed with zinc color glaze over silver highlights, spruced this up so the detail pops a little more.
Used:
Clean with Krud Kutter – you should have seen the yellow goo that came off, then oil base primer.
General Finishes Seagull Gray base coat on body
White on top and skirt including drawer outline details
Light highlights using Silver Rub N Buff
Grunged a little with zinc glaze – a mix of black and silver.
Of course top coated with General Finishes High Performance Flat – the only top coat I use.
Love these legs

Center detail – white in the middle

Embellished with silver highlights and zinc glaze

Seagull Gray – the grayest gray
or what happens when I run out of paint
Dusty rose pink

Brown Glaze & Gold Highlights

Cute little glass pink knob